The REALTORS at The Jones Group know that 95% of buyers use the internet to search for a new home. That's probably why you are looking at this page right now. Searching for homes on sites like this is a great way to start. But you've probably discovered that what may look and sound perfect for you on the web, may not suit your needs when you visit the open house. Our agents take great efforts to know the local inventory. We make sure to see as many properties as possible. When you call, we can give you an accurate review of the property.
If you are committed to buying a new home, you don't want to waste time sifting through the detritus. You may miss that perfect opportunity. You need a REALTOR that will listen to your wants and needs. A REALTOR who can take this information, who knows the neighborhood and will show you the right home. Finding the right home and making an offer is only the beginning.
The key to our success in selling homes is our constant attention and analysis of the market, our ability to interpret changes and communicating these trends to our buyers. Our sales record speaks for itself. The REALTORS at The Jones Group always represent satisfied buyers and sellers.

Here is feedback from a few of our satisfied clients.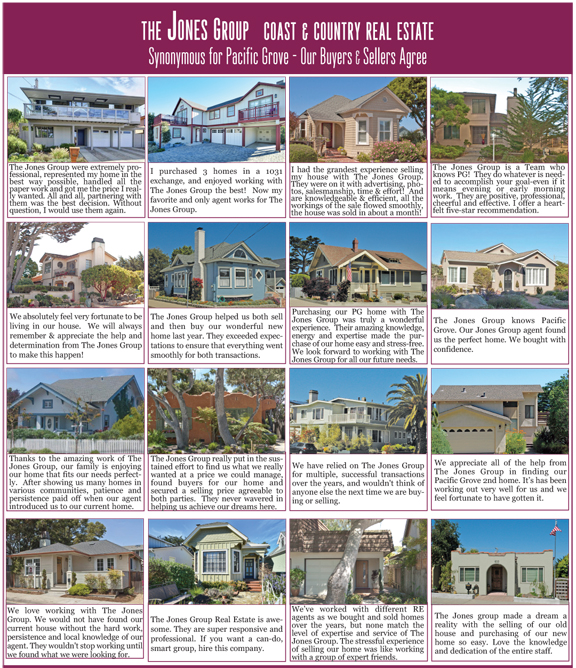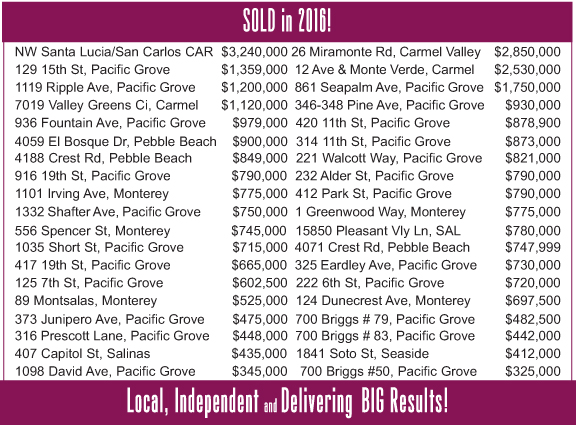 SOLD in 2015!
| | | | | | |
| --- | --- | --- | --- | --- | --- |
| 102 2nd St PG | $1,925,000 | 1270 Surf Ave, PG | $1,310,000 | 565-567 Pine St PG | $1,100,000 |
| 116 10th St PG | $979,000 | 1038 Ocean Rd PB | $965,000 | 1114 Crest Ave PG | $950,000 |
| 1317 Shafter Av PG | $897,500 | 2838 Congress PB | $888,000 | 136 Pacific Ave PG | $861,000 |
| 933 Fountain Av MO | $895,000 | 1270 Shell Ave PG | $841,500 | 376 Hillcrest Av PG | $859,000 |
| 1015 Egan Ave PG | $884,000 | 622 Congress PG | $820,000 | 485 Hillcrest Av PG | $755,000 |
| 15 Deer Forest MO | $880,000 | 1285 Buena Vista PG | $777,000 | 4 Skyline CR MO | $680,000 |
| 25470 Tierra Grande, CV | $850,000 | 414 Monterey PG | $770,000 | 4 Skyline Cr MO | $644,000 |
| 2809 Ransford PG | $695,000 | 651 Filmore St MO | $649,000 | 307 Eardley Av PG | $540,000 |
| 1028 Austin Ave PG | $700,000 | 153 14th St PG | $645,000 | 607 Monterey PG | $525,000 |
| 1002 Hillside PG | $644,000 | 1 Skyline Cr MO | $632,500 | 1864 Luxton SEA | $525,000 |
| 3219 Serra Av CAR | $655,000 | 1113 Lincoln St PG | $623,000 | 24 Encina Ave MO | $515,000 |
| 39 Via Cimarron MO | $635,000 | 1203 Lawton PG | $600,000 | 700 Briggs #88 PG | $398,500 |
| 871 Grace St MO | $585,000 | 585 Hawthorne #101 MO | $515,000 | 700 Briggs #44 PG | $343,500 |
| 610 Forest Ave PG | $575,000 | 413 Alcalde MO | $432,500 | 820 Casanova #54 MO | $315,500 |
| 426 English Av MO | $490,000 | 415 Spencer MO | $390,000 | 500 Glenwood #110 MO | $275,000 |
| 17562 Sugarmill SAL | $465,000 | 1884 Cherokee #3 SAL | $296,000 | 6 Loma Vista MO | $275,000 |